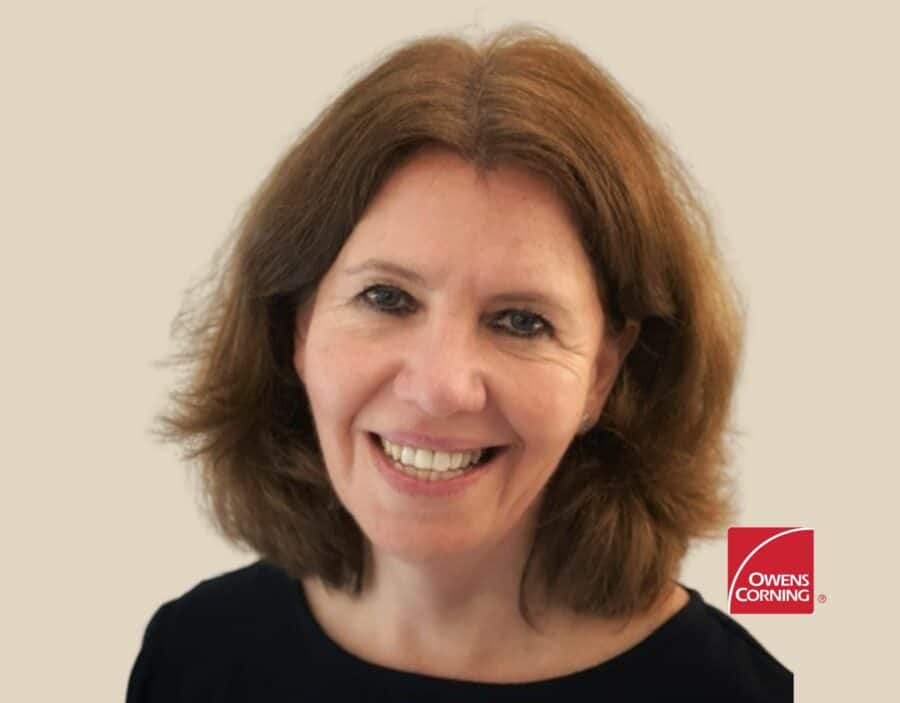 For the penultimate chapter of our series celebrating companies that #EmbraceEquity and actively champion diversity and inclusion by sharing stories of their female leaders, Claudia Lemke, Client Delivery Manager EMEA & LATAM at Pacific International, introduced me to Liesl Weber.
Liesl is European Communications Leader at Owens Corning, (NYSE: OC), an American public company that develops and produces insulation, roofing, and fiberglass composites and related materials and products. Liesl spoke to me about her professional journey, inspirational women in her life, and the key challenges facing women in 2023 and beyond.
Margaret Jaouadi: Liesl, tell me a little bit about your professional journey as a female leader and the challenges that you faced along the way.
LW: I have always worked in manufacturing organisations which are by nature very male-dominated, even more so when I started my career. It was tough but I can honestly say I never saw being a woman as a disadvantage. Instead, I used it to my advantage, focusing on what I could control which ultimately lead to a full and enjoyable career.
I was 12 years old when my father got sick and he passed away when I was 15. While he was ill, he couldn't work, my mum was on a teacher's salary so I had to start earning money from the age of 14. I don't want it to sound like a sob story because it wasn't, it was life. My mother taught me to be extremely independent and strong from a young age, so I never positioned myself as weak because my mother wouldn't let me.
Throughout my whole career, I've had both male and female managers. The female managers would tell me to stand up for myself and, not let men push me around. But it didn't apply to me. I had my methodologies and my work ethic. As a result, I never had to ask for a raise or a promotion, I always got them on merit. Being a woman was my strength from day one so I focused on that and what I was good at. It was never a disadvantage. I never allowed myself to look at it like that.
MJ: Liesl, tell me about significant women in your life who impacted where and who you are today.
LW: My mother was a huge influence in my life. She was tough, independent, and loved life. She taught me from a young age not to waste time trying to fix my weaknesses and to rather focus on strengthening my strengths.
Another woman who is an inspiration to me is the Queen of Jordan, Rania Al-Yassin. Despite living in a very traditional environment, she uses her position to advocate for important issues relating to education, health, community empowerment, youth, cross-cultural dialogue, and micro-finance. I admire that to this day.
And the last person, but not least, I want to mention, is my best friend. She lost her mum at a very young age, I lost my dad early in life so the two of us connected over this. She has a completely different outlook on the world because she has never had a strong female influence. I have learned a lot from the way that she coped, her pragmatic look on life, and the learnings she had growing up with a stronger male role model.
MJ: Thank you so much. You've had first-hand experience working with Pacific. How would you describe it?
LW: My journey with Pacific started when a former colleague approached me for the role. The recruitment process involved numerous interviews but Pacific kept me engaged as a candidate and kept me in the loop at all times. I was impressed that they did not push me and gave me the space to reflect, always asking the right questions. I loved the fact that the team at Pacific took time to get to understand who I was and what I needed to be the best I could be.
When the process got a little bit hectic as it sometimes does, they never made me feel it, they kept it away and communicated patiently throughout. It was a comfortable process.
MJ: Thank you for your feedback. And now the last question, could you please tell me what challenges you think women face in 2023 and beyond?
LW: For me, time is the most valuable resource we have now. It can be overwhelming and challenging to decide how to allocate my time and resources effectively especially when there is so much information and possibilities around.
I was reflecting a lot on the challenges women face. I come from South Africa where in the past we had Apartheid, which was awful. Now they have what they call the process of affirmative action. I've seen what it can do. I've seen the good it can do and I've seen the damage it can do.
Life is about balance. Diversity and inclusion are huge at the moment together with the #MeToo movement. There is a huge positive change happening but we need to bring it into balance and we mustn't take advantage of it and say just because we're women, we have the right. And that's not how it should be. I think women need to be conscious of that need for balance and not overcorrect for the wrong reasons.
As women, we need to continue to be role models. Some of the female leaders I have had in my career have been worse and more discriminatory to me than men. I would say that overall, the male leaders treated me better than some of the women leaders. Maybe it's only my age group, but many women who reached senior levels of their careers have done so the hard way. They've had to fight and claw their way to the top and they feel all women need to do the same. I have personally experienced that and when a woman does that to another woman it somehow feels even worse. We must ensure this doesn't happen going forward.
MJ: Thank you very much for your time and for sharing your story.
For a confidential chat about how Pacific International can assist you with your Talent Acquisitions and Diversity challenges, please contact David Howells or one of our Executive Search Consultants specialising in your sector.
Recent posts
Talk to our executive search experts now
or message us
Get in touch