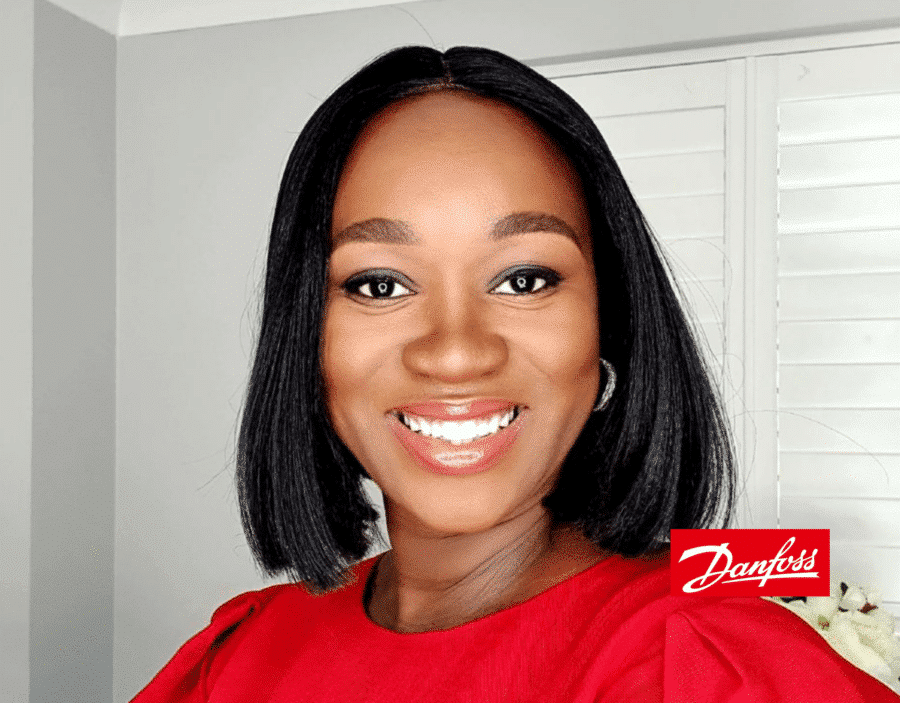 Each year, International Women's Day brings into focus the continued need to highlight the issues around diversity and inclusion.
Throughout March, we celebrate companies that #EmbraceEquity and actively champion diversity and inclusion by amplifying the stories and voices of their female leaders.
David Howells, Group CEO of Pacific International, introduced me to one such powerful female leader and diversity champion and Pacific's long-standing client, Esther Odewumi. Esther is Head of Corporate Strategy & Consulting at Danfoss, a Danish multinational company that engineers solutions that increase machine productivity, reduce emissions, lower energy consumption, and enable electrification. Esther spoke to me about her professional journey, inspirational women in her life and the key challenges facing women in 2023 and beyond.
Margaret Jaouadi: Esther, thank you for speaking with me today. Could you start by telling me about your professional journey as a female leader and the challenges that you faced along the way?
EO: I've worked in the professional services space for about 18 years now gaining very strong experience at three of the Big 4 consulting firms: KPMG, Deloitte, and EY, and internationally in Nigeria, the UK, and now in Denmark. And in that time, I have successfully led, supported, or driven transformational, finance, and change management programmes.
Some of the challenges I've faced in my career have been related to my gender as a female in a male-populated environment, and some due to my race but often I have experienced intersectionality of challenges which compounds the effect.
Throughout my career, I have faced various challenges. One of them was the constant need to prove my expertise and abilities at work. As a female leader, I have had to articulate my opinions firmly while still being mindful of others' perspectives. There was often an expectation that I should be motherly, and anything else may have been perceived as aggressive. Despite these biases, I have always aimed to practice equity and strike a fine balance between meeting expectations and being true to myself. In addition, I have faced challenges due to my identity as a black woman, and I have always done my best to overcome any assumptions about my capabilities. Despite these challenges, I have always delivered tangible results.
MJ: Would you give me an example of challenges from your early career?
EO: I was told by a senior colleague that I had to choose between career progression and parenting, and that it was an erroneous idea for me to think I could have both. And at that moment I had to sit down and think about how I wanted to respond to that and move forward from that point. I came away from that knowing that I wanted to be the mother my children would be proud of. I wanted to be a professional who is also a parent.
So I sought out support from people in the same situation. I found mentors male and female, who were parenting and also leading successful professional lives and learnt from them.
As a woman making career decisions or getting promoted, I have often noticed that people are more concerned about my husband's reaction than my own. Questions like, "How does he feel?" or "What will your husband do if you move countries?" are commonplace. It frustrates me that these questions are not typically asked of men, as there is an underlying assumption that their wives will just follow along and take care of the children. It also bothers me when people ask where my children are, assuming that I'm the primary caregiver. I often must explain that my children have two parents and are with their other parent. This bias towards assuming that men are making a bigger sacrifice than women need to change.
MJ: Thank you for sharing that. Esther, tell me about significant women in your life who impacted who you are today.
EO: I've got quite a few. My mom, a career woman in her own right, is my original role model. But along the way, I climbed the career ladder because other women have either challenged me or supported me or held my hand. Women like the former Principal Consulting Partner at KPMG Bisi Lamikanra, my mentor Amanda Gethin, a fantastic highly experienced senior leader I worked with at EY, and many black female mentors who, even though I have not worked directly with, have shown me that success is possible.
I also want to mention my spiritual mentor, Abbih Oloyede a female pastor who provides me with emotional and spiritual support along my journey.
MJ: Pacific International as an executive search firm, champions diversity and is very keen to place diverse candidates wherever possible for every engagement. You've had first-hand experience working with Pacific. How would you describe it?
EO: I found Pacific very inclusive and non-judgmental. I think for me Pacific stands out as an executive search firm that will never put your CV in the bin. Research conducted by the Department of Work and Pension shows that for every CV that comes in, a CV from a black person is four times more likely to end up in a bin than everybody else based on their name. With Pacific, I always felt that it was not my race or my gender but rather who I am that was a factor in putting me forward. I have a very positive image of Pacific, they were very respectful and considerate, and inclusive during my recruitment journey and it continues to date.
MJ: Thank you for your kind words. And the final question, Esther, in your view, what are the key challenges facing women in 2023 and beyond?
EO: Gender pay-gap. That's the first one. Women are paid considerably less than men, and it impacts their ability to build wealth for their old age and to build generational wealth. Women should be paid as well as men for their skills and capabilities. Transparency is the first step towards achieving this. Recruiters have a role to play too – instead of asking how much people want to earn, they should just tell them how much the job is paying.
Another challenge women face is a lack of agency. Women do not have as much agency as men in the workplace, which is why women need more sponsors and mentors; somebody to speak up for them in spaces where they cannot speak up. With agency, women can progress up the ladder at an equal pace as men. Until such time, we need somebody who beats the drums for women.
There is the intersectionality of race for black women. As a black woman, I can attest to that. Black women are frequently perceived as easy targets. The lack of agency, and the fact they are female and black makes them an easy target for microaggressions, poor treatment, being placed on disadvantageous projects, and being passed over for promotions.
The issue of gender, lack of agency, and then having their race layered on top of that makes the workplace a very intense and difficult place for black women.
MJ: How can this be alleviated?
EO: Women should not be the ones advocating in the moment when the situation is happening, the same way black people should not be the ones teaching others about racism.
This intersectionality of race and gender should be considered more by employers who want to make the workplace a safe place for women and women of colour.
Companies need to take it upon themselves to create awareness, diversity, and inclusion messages.  Leadership in businesses should be clear on where they stand on diversity, equity, and inclusion. This is something I'm very grateful for in Danfoss. Danfoss is very clear on where they stand on diversity, equity, and inclusion.
It's a very equitable organisation. It's a place where women are encouraged to have a voice, is a place where I have a voice. We're very big on our Employee Resource Groups (ERGs), which enable brave conversations in the workplace. Organisations need to speak up on where they stand regarding gender equity and the gender pay gap. When an organisation is clear on where it stands people know what they can or cannot get away with.
The other way to create agency is to put in place good mentoring programmes and sponsorship programmes for marginalised communities, women, and minority racial groups to provide support and advocacy for equal opportunities.
MJ: Thank you very much. This was very insightful. Thank you for your time.
For a confidential chat about how Pacific International can assist you with your Talent Acquisitions and Diversity challenges, please contact David Howells or one of our Executive Search Consultants specialising in your sector.
Recent posts
Talk to our executive search experts now
or message us
Get in touch