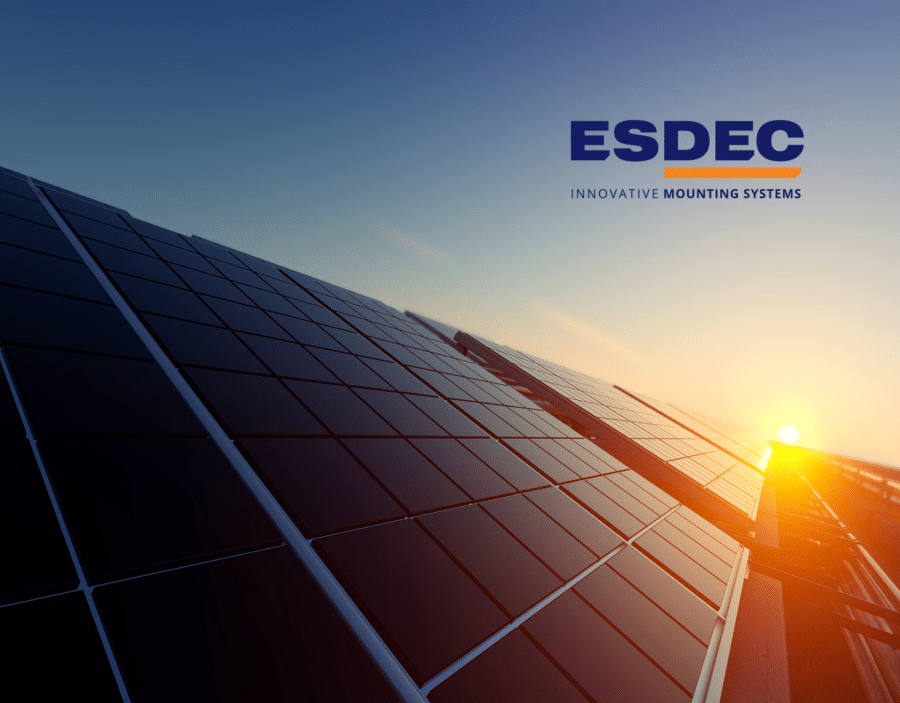 According to the World Economic Forum, despite the steep increases in the cost of raw materials such as steel, copper, and polysilicon used in solar panels, the transition to clean energy continues to gather pace and nothing seems to hold back the advance of renewable energy in the race to avert the climate catastrophe.
Clean technologies play a key role in shaping the transformation of the energy industry and supporting the decarbonization of all sectors of the economy. Nations that have previously relied on fossil fuels from Russia, push ahead with new renewable capacity in response to the war in Ukraine further increasing the demand. According to the International Energy Agency (IEA), solar energy is expected to account for 60% of the increase in global renewable capacity.
Against that backdrop, an international leader in universal systems for roof-mounted PV installations on flat and pitched roofs headquartered in the Netherlands and with operations in Europe and North America, turned to Pacific International Executive Search to identify and attract the best possible talent to create a transformational team who will help them monetize the growth trend and the huge demand for its products.
Following the success and efficiency with which the initial mandate was executed in Germany, Pacific International has seen off two competing search firms and was retained on an exclusive basis to build a sales management team spanning 6 European countries.
The Challenge
Despite the good press and the interest in purpose-led employment among candidates, cleantech and renewable energy companies struggle to attract talent. Our client is no different. They have an excellent product and a great brand but taking their story to market and simultaneously hiring talent across multiple locations presented a challenge.
In addition, they are very well established across distribution networks and sales channels which meant careful navigation and precision in targeting the right companies to avoid hiring conflicts.
The client considered the idea of working with individual contingency firms in each geography but promptly dismissed it. Working with multiple stakeholders not only requires additional management time but also increases the dangers of hiring conflicts, project delays or the client company's brand being misrepresented.
However, the main argument against this approach was the fact that staffing firms mostly work with candidates actively looking for career opportunities. Our client wanted to attract the best talent on the market not just the available talent and this calls for a need to expand the search into the passive talent pool. Contingency recruiters don't have the required expertise to reach these candidates.
As a result, to capitalize on the exceptional market conditions, capture additional market share, and expand its reach into new territories, the client decided to partner with Pacific International to benefit from its expertise in the renewable energy sector, its strong network of contacts across multiple geographies and their tried and tested research-led approach to finding extraordinary talent.
Pacific's multilingual team acted as their client's brand ambassador and devised the go-to-market strategy to identify the best talent for this complex project.
The Talent Acquisition process in the solar industry moves fast. Extremely fast. To provide candidates with the best possible experience, Pacific recommended limiting the interview process to three interview rounds. Also, Pacific deployed its tried and tested 3-point approach to ensure seamless communication between the parties: an HR business partner at one end, the hiring manager at the other, and a Lead Consultant and a single point of contact at Pacific closing the loop. This meant keeping all the parties engaged throughout the whole process while avoiding any unnecessary decision-making delays.
The Solution
After a detailed briefing, Pacific's research team created a list of target companies, simultaneously mapped the local talent markets, leveraged existing relationships to gain additional insights into the talent market, and used prior sector knowledge to devise the most effective talent attraction strategy.
Rupert Haffenden, Head of Sector – Renewable Energy & Cleantech and a lead consultant on the project, commented: "Having a multilingual team was one of the reasons Pacific was retained as a Talent Acquisition partner. It is also one of the main reasons why Pacific was so successful as it enabled us to approach and attract talent in local languages. It made it easier to get past the gatekeepers, but it also allows us to build stronger relationships with the candidates faster. We have been working in the market for almost 7 years now and we are here for the long haul, so building long-term relationships allows us to leverage them for this and future mandates."
"Another benefit of that was our ability to faster ascertain candidates' suitability for the role. It allowed us to save the hiring manager's time and enabled them to spend more time with only the right candidates," Rupert added.
Retained executive search firms bring a wealth of expertise and a deep understanding of the sector as well as invaluable local salary insights. As part of the service, Pacific provided real local remuneration information which enabled our client to go to market at the right level of compensation to secure the best talent when making an offer.
Within the early weeks, Pacific presented a wide range of candidates to determine the best suitability and quickly refined the search to focus the efforts on the right type of candidate for each country.
Rupert explained: "The precision with which we executed the project meant that it was completed in four rather than the originally planned seven months. This enabled the right talent to be on the ground faster ready to start building local teams and delivering solutions to their customers ahead of time. The client was able to bring the sales strategy forward and start generating higher sales revenue earlier than expected. They were able to be present at earlier trade shows and conferences and start representing their brand ahead of expectations. We are delighted with the results we were able to achieve for our client."
The Look Behind the Numbers
Pacific has been on the market for over 25 years and we recognize the importance of fully understanding the detail of each requirement, creating the right story, and devising the right strategy for taking it to market on behalf of the client. This in turn enables us to be extremely precise and tailored in our candidate approach.
Rupert explained: "An 84% candidate shortlist-to-interview ratio and a three-to-one interview-to-offer ratio that we have achieved is a testament to the quality of candidates that we have presented thanks to our lean and agile project approach. This meant saving the hiring manager's time and delivering the right talent ahead of expectations."
"On average, the candidates benefited from an average of 15 to 20% salary uplift across all eight positions. We see this as a market standard within the solar industry today, region dependent, he added.
Ongoing Partnership
Following the successful completion of this multi-hire project, Pacific has firmly established its position as a Trusted Advisor and exclusive Talent Acquisition partner and is now working with CXO-level executives to deliver strategic leadership talent globally as they continue to build out their business across the US while supporting their sales and commercial growth in Europe.
Rolf Voerman, VP Human Resources at Esdec Solar Group commented:
"The demand for solar energy is explosive and is driving the constant need for new talents in our company. In the past two years, we more than doubled our workforce of which 30% is through the recruitment of new employees. Although we are very successful in this, it is remaining a major challenge. In Pacific International, we found a reliable partner to support us in this challenge. They have proven to bring the mission of the Esdec Solar Group ("We enable the energy transition to solar energy for future generations") to life for potential candidates, match them with the right positions, and make them enthusiastic to join us. They know our organization and can tell our story that well that profiles are spot on, candidates are excited and Pacific International feels like a logical extension of our recruitment team. We gave them complex assignments for multiple sales managers in different countries, and senior technology positions in different regions and they delivered every time on their commitments. Ruppert Haffenden, Kathryn Williams, David Howells, and their team members are very engaged, capable, and nice people to work with, they match our company culture which is probably the best foundation for our cooperation and collective success."
For a confidential chat about how Pacific International can assist you with your Cleantech and Renewable Energy Talent Acquisitions and Diversity challenges, please contact Ruppert Haffenden or one of our Executive Search Consultants specialising in your sector.
Recent posts
Talk to our executive search experts now
or message us
Get in touch